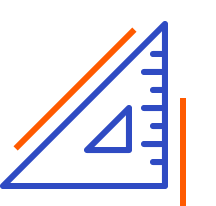 You can't build something positive without some
shelter

from the negative.

---
Everyone inherits an emotional landscape, one that is shaped by our experiences. No one asks for traumatic experiences to warp the terrain, to clutter it with the detritus of hardship and pain. As chaotic as it may be, though, it is undeniably ours.
Many traditional approaches to trauma recovery urge us to find a safe mental place, somewhere we can go when we feel shaky, when aftershocks from the earthquake of trauma assert themselves in our lives. These approaches fail to consider that it takes time, energy, and effort to build a fortress. And identifying safety takes practice.
For these reasons, the Red Heron concept starts with a temporary shelter, one that's easier to build. One where you can put ideas of peace, security, and freedom to the test and figure out exactly what you want your finished landscape to look like.
So, we park a mobile home at the edge of this disarrayed property we've been given. We outfit it with enough security to hold the past at bay while we look toward organizing the future. We decorate it with various trappings of "home" until we're satisfied that we've found the style and patterns that represent to us the stability and comfort to which we're all entitled.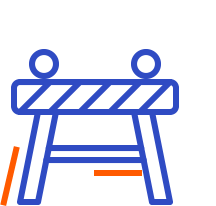 Change doesn't happen overnight. Take your time discovering what
security

means to you.

---
As they say, Rome wasn't built in a day. Where trauma recovery is concerned, progress isn't something to be tracked. It shouldn't be measured quantitatively, and there is certainly no standard timeline for rebuilding after an earthquake. Recovery, rather, should be an organic byproduct of our work to build that safe space we keep hearing about.
Red Heron rejects the idea that there are milestones on the road to recovery. Instead, we celebrate the smooth transition from where we start, experiencing frequent aftershocks without an effective foundation for withstanding them, to the stable place we will inevitably, naturally end up. Though concurrent treatment is necessary, we don't see ourselves as mental health patients or therapy clients. We are students of architecture, learning to lay new foundations for ourselves that won't crumble in a quake.
One thing most of us aren't used to is being kind to ourselves. The process of setting up our mobile homes is our prime opportunity to change that, to realize we deserve to take the time to learn proper architecture, to experiment with styles, and ultimately to re-landscape our terrain and build our ideal, safe home upon it.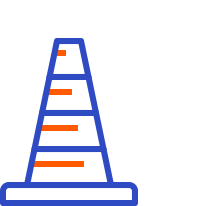 As with any endeavor meant to stand the test of time, proper
planning

is key to our new home's construction.

---
We may have inherited an emotional property we've found hard to live with, but through the Red Heron approach we're working to turn it into a place we'll enjoy living for the rest of our lives. This is the reason for the experimentation in that mental mobile home. Before we haul away the debris littering our land, before we start to mold it to the shape of the home it will hold, we need to have a solid idea of the form and function that will help us feel happy and secure.
We take the time to fully visualize the environment in which we want to live. Are we most at home in an urban setting? A forest clearing? Perhaps farmland is what speaks loudest of emotional freedom. The choice is yours. Many of us spend years being told what recovery "should" look like, what our end result "should" be. Just as everyone's trauma is unique, however, there is no one-size-fits-all goal for or road to stability. Isn't it time we asked ourselves what we want our future to be?
That question is at the core of the planning stage. By mentally mapping out our ideal surroundings, reshaping our emotional landscape, and designing every element of the unique structure that will sit upon it, we take charge of our future and create a life we can truly love.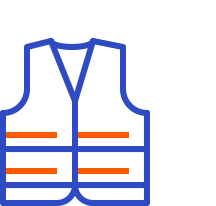 Even as we rebuild following our earthquakes, continued aftershocks call for the
flexibility

to stand strong.

---
Aftershocks are unavoidable. They will happen. Fortunately, we've developed enough as architects to know that if we lay the right foundation, our structure will sway with the movement of the land beneath it. No longer will we crumble when faced with the fault lines of the past. And the more aftershocks we survive intact, the more confident we'll be in our ability to cope and the less severe those aftershocks will seem.
Trauma recovery isn't about getting to a place where things don't bother us. We are all human, with all the emotional responses that entails. And we have experienced things that would - and should - cause upset, even in those without traumatic pasts. At Red Heron, we believe recovery to be fundamentally different from that common perception. Rather than eliminating emotional reactions, we aim to build and occupy a place safe enough for our feelings to no longer threaten us.
Even those who have completed their recovery will remember and occasionally think about the trauma we've overcome. From the point of view of our empathy for the human condition, it's perfectly healthy to be bothered by the fact that it happened. But we don't have to be trapped into reliving our experiences by those stray thoughts and random memories. To flashbacks, continued suffering, and repeated traumatized reactions, Red Heron says a firm and resounding no.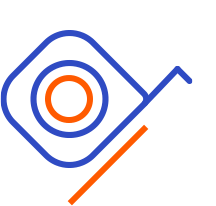 Our focused study and careful planning culminates in the
construction

of our new, safe home.

---
Just as you decorate your living space in a style that suits your tastes, so will you build your emotional home in a way that reflects the life you want to live. Traumatic experiences try to break us, to erase us as individuals worthy of our own place in the world. This is our chance to shine as architects, show what we're capable of, and learn to believe in the power of our creations.
More than simply showcasing your personal tastes, though, your new home should first and foremost be your fortress. Envision yourself in a setting where you can relax and truly be yourself. What does this place look like? Does it have a fully stocked library with an overstuffed chair next to a fireplace? Would you be more comfortable looking out a large picture window at the property you've so carefully sculpted? Perhaps most importantly, will you open your land to garden gnomes in need of a good home?
It's essential that we visualize every detail of the emotional landscape we'll occupy and the home we build there. Then we must make it real. This is where our peace, safety, and freedom will come from: the knowledge that we live in a place capable of withstanding tremendous earthquakes. If we know our foundation is strong and our structure is expertly built, we can handle anything life might throw at us.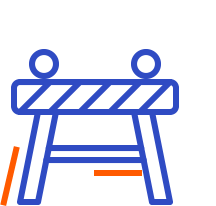 After building our emotional future, our focus turns to
preservation

and maintenance of our new homes.

---
For most of us, actual recovery from trauma seems a bit anticlimactic. Think about the last time you had a head cold: you definitely noticed when something was wrong, but it's next to impossible to pinpoint the exact moment the symptoms went away. Shedding traumatized reactions is much the same. We don't wake up one day knowing that the next challenge to arise in our lives won't trigger the feelings of trauma we're used to. Rather, we come to realize after a troubling event - or two, or six - that we shouldered the burden and powered through without getting caught up in the emotions of the past.
Challenges and heartache are part of life for everyone. As trauma survivors, we grow accustomed to watching our body activate its fight-or-flight response when difficulty arises. We're unable to stop it, even though many times we're able to review the situation objectively during the event and acknowledge that most people wouldn't react so severely. As architects, however, we have designed and built a space safe enough for our bodies to realize the panic-mode response isn't always necessary. Trauma responses are involuntary; only by reassuring our bodies that the trauma isn't happening again - and won't happen again - can we convince them to remain calm.
As with all things, the process of learning architecture, identifying the things that speak to you of safety, and working on your landscape are all easier when you have others to act as sounding boards and cheer you on from the sidelines. If you haven't already, consider this your formal invitation to join our forums, share what works for you, and seek input from other architects. And if you find yourself in the middle of an aftershock, make sure you have your trauma kit handy to keep yourself steady until the shaking stops.